Hydrophilic urologic catheters with water sachet and urine bag
We present a new type of urologic catheters, hydrophilic coated, developed by GALMED in cooperation with Warsaw Polytechnic.
The hydrophilic layer after dipping in water swells up giving the catheter a slip, which facilitates the application in clear intermittent catheterisation (CIC).
The kits allow for catheterization
in places with difficult access to running water, as well as in travel and places without access to a bathroom.
Water sachets are equipped with clip which is our original design, allowing easy opening.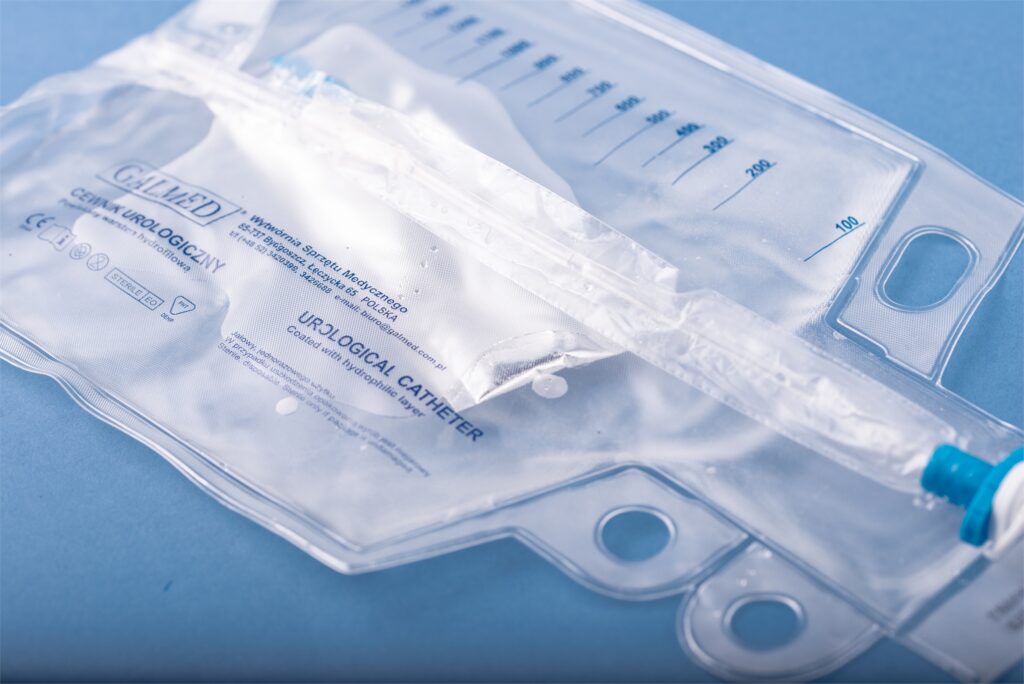 Nelaton with water sachet
| size | diameter | length | reference number | connector colour |
| --- | --- | --- | --- | --- |
| CH6 | 2,0 mm | 400 mm | 910604011 | |
| CH8 | 2,8 mm | 400 mm | 910804011 | |
| CH10 | 3,3 mm | 400 mm | 911004011 | |
| CH12 | 4,0 mm | 400 mm | 911204011 | |
| CH14 | 4,7 mm | 400 mm | 911404011 | |
| CH16 | 5,3 mm | 400 mm | 911604011 | |
| CH18 | 6,0 mm | 400 mm | 911804011 | |
Nelaton with water sachet and urine bag
| size | diameter | length | reference number | connector colour |
| --- | --- | --- | --- | --- |
| CH6 | 2,0 mm | 400 mm | 910604021 | |
| CH8 | 2,8 mm | 400 mm | 910804021 | |
| CH10 | 3,3 mm | 400 mm | 911004021 | |
| CH12 | 4,0 mm | 400 mm | 911204021 | |
| CH14 | 4,7 mm | 400 mm | 911404021 | |
| CH16 | 5,3 mm | 400 mm | 911604021 | |
| CH18 | 6,0 mm | 400 mm | 911804021 | |
Female Nelaton with water sachet
| size | diameter | length | reference number | connector colour |
| --- | --- | --- | --- | --- |
| CH6 | 2,0 mm | 200 mm | 910602012 | |
| CH8 | 2,8 mm | 200 mm | 910802012 | |
| CH10 | 3,3 mm | 200 mm | 911002012 | |
| CH12 | 4,0 mm | 200 mm | 911202012 | |
| CH14 | 4,7 mm | 200 mm | 911402012 | |
| CH16 | 5,3 mm | 200 mm | 911602012 | |
| CH18 | 6,0 mm | 200 mm | 911802012 | |
Female Nelaton with water sachet and urine bag
| size | diameter | length | reference number | connector colour |
| --- | --- | --- | --- | --- |
| CH6 | 2,0 mm | 200 mm | 910602022 | |
| CH8 | 2,8 mm | 200 mm | 910802022 | |
| CH10 | 3,3 mm | 200 mm | 911002022 | |
| CH12 | 4,0 mm | 200 mm | 911202022 | |
| CH14 | 4,7 mm | 200 mm | 911402022 | |
| CH16 | 5,3 mm | 200 mm | 911602022 | |
| CH18 | 6,0 mm | 200 mm | 911802022 | |
Female Nelaton short with water sachet
| size | diameter | length | reference number | connector colour |
| --- | --- | --- | --- | --- |
| CH6 | 2,0 mm | 110 mm | 910601114 | |
| CH8 | 2,8 mm | 110 mm | 910801114 | |
| CH10 | 3,3 mm | 110 mm | 911001114 | |
| CH12 | 4,0 mm | 110 mm | 911201114 | |
| CH14 | 4,7 mm | 110 mm | 911401114 | |
| CH16 | 5,3 mm | 110 mm | 911601114 | |
| CH18 | 6,0 mm | 110 mm | 911801114 | |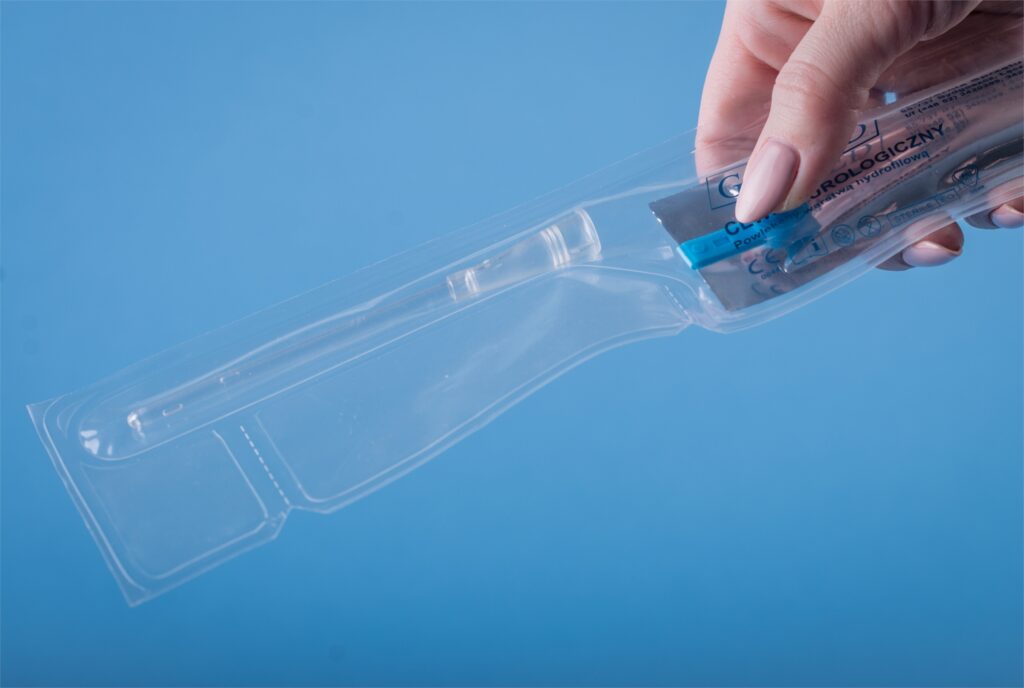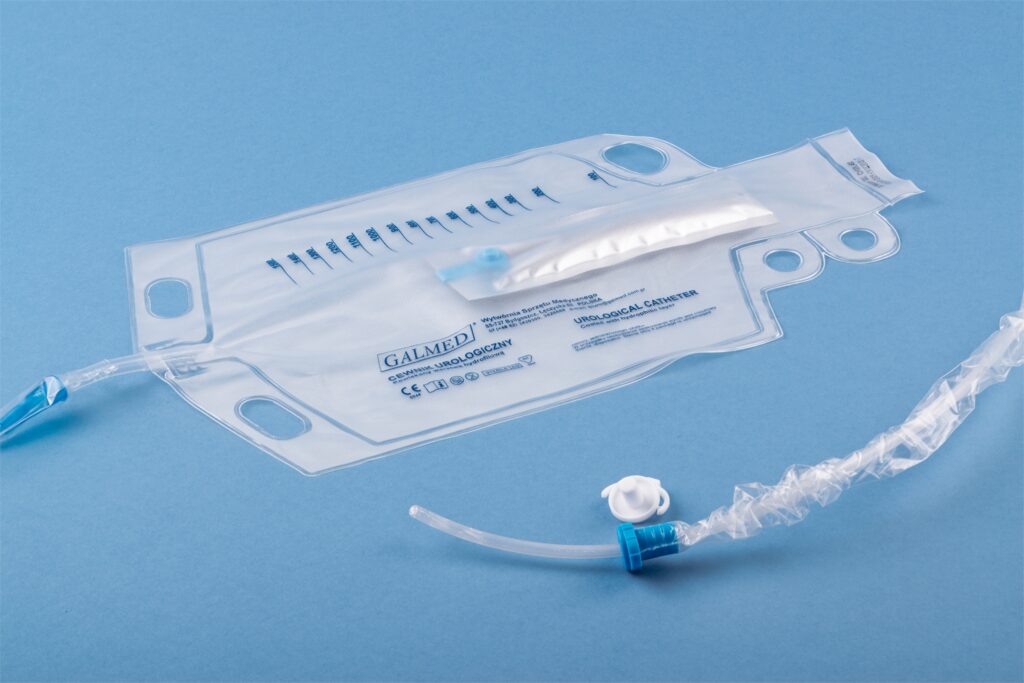 Tiemann with water sachet
| size | diameter | length | reference number | connector colour |
| --- | --- | --- | --- | --- |
| CH6 | 2,0 mm | 400 mm | 920604010 | |
| CH8 | 2,8 mm | 400 mm | 920804010 | |
| CH10 | 3,3 mm | 400 mm | 921004010 | |
| CH12 | 4,0 mm | 400 mm | 921204010 | |
| CH14 | 4,7 mm | 400 mm | 921404010 | |
| CH16 | 5,3 mm | 400 mm | 921604010 | |
| CH18 | 6,0 mm | 400 mm | 921804010 | |
Tiemann with water sachet and urine bag
| size | diameter | length | reference number | connector colour |
| --- | --- | --- | --- | --- |
| CH6 | 2,0 mm | 400 mm | 920604021 | |
| CH8 | 2,8 mm | 400 mm | 920804021 | |
| CH10 | 3,3 mm | 400 mm | 921004021 | |
| CH12 | 4,0 mm | 400 mm | 921204021 | |
| CH14 | 4,7 mm | 400 mm | 921404021 | |
| CH16 | 5,3 mm | 400 mm | 921604021 | |
| CH18 | 6,0 mm | 400 mm | 921804021 | |
Tapered tip with water sachet
| size | diameter | length | reference number | connector colour |
| --- | --- | --- | --- | --- |
| CH6 | 2,0 mm | 400 mm | 920604011 | |
| CH8 | 2,8 mm | 400 mm | 920804011 | |
| CH10 | 3,3 mm | 400 mm | 921004011 | |
| CH12 | 4,0 mm | 400 mm | 921204011 | |
| CH14 | 4,7 mm | 400 mm | 921404011 | |
| CH16 | 5,3 mm | 400 mm | 921604011 | |
| CH18 | 6,0 mm | 400 mm | 921804011 | |
Tapered tip with water sachet and urine bag
| size | diameter | length | reference number | connector colour |
| --- | --- | --- | --- | --- |
| CH6 | 2,0 mm | 400 mm | 920604021 | |
| CH8 | 2,8 mm | 400 mm | 920804021 | |
| CH10 | 3,3 mm | 400 mm | 921004021 | |
| CH12 | 4,0 mm | 400 mm | 921204021 | |
| CH14 | 4,7 mm | 400 mm | 921404021 | |
| CH16 | 5,3 mm | 400 mm | 921604021 | |
| CH18 | 6,0 mm | 400 mm | 921804021 | |
Soft-tip with water sachet
| size | diameter | length | reference number | connector colour |
| --- | --- | --- | --- | --- |
| CH6 | 2,0 mm | 400 mm | 920604012 | |
| CH8 | 2,8 mm | 400 mm | 920804012 | |
| CH10 | 3,3 mm | 400 mm | 921004012 | |
| CH12 | 4,0 mm | 400 mm | 921204012 | |
| CH14 | 4,7 mm | 400 mm | 921404012 | |
| CH16 | 5,3 mm | 400 mm | 921604012 | |
| CH18 | 6,0 mm | 400 mm | 921804012 | |
Soft-tip with water sachet and urine bag
| size | diameter | length | reference number | connector colour |
| --- | --- | --- | --- | --- |
| CH6 | 2,0 mm | 400 mm | 920604022 | |
| CH8 | 2,8 mm | 400 mm | 920804022 | |
| CH10 | 3,3 mm | 400 mm | 921004022 | |
| CH12 | 4,0 mm | 400 mm | 921204022 | |
| CH14 | 4,7 mm | 400 mm | 921404022 | |
| CH16 | 5,3 mm | 400 mm | 921604022 | |
| CH18 | 6,0 mm | 400 mm | 921804022 | |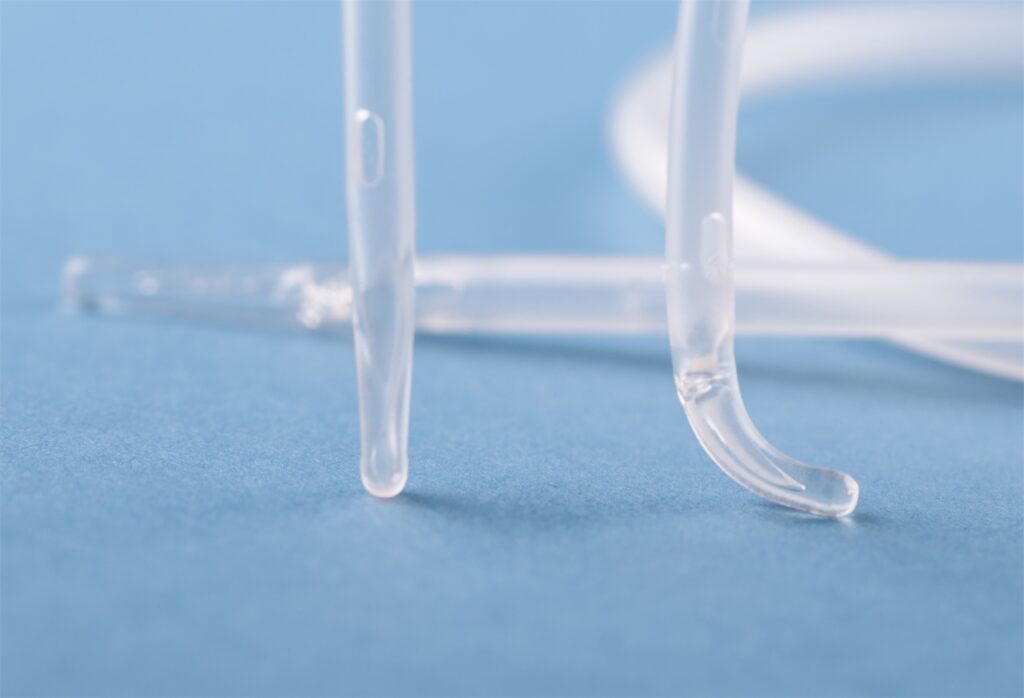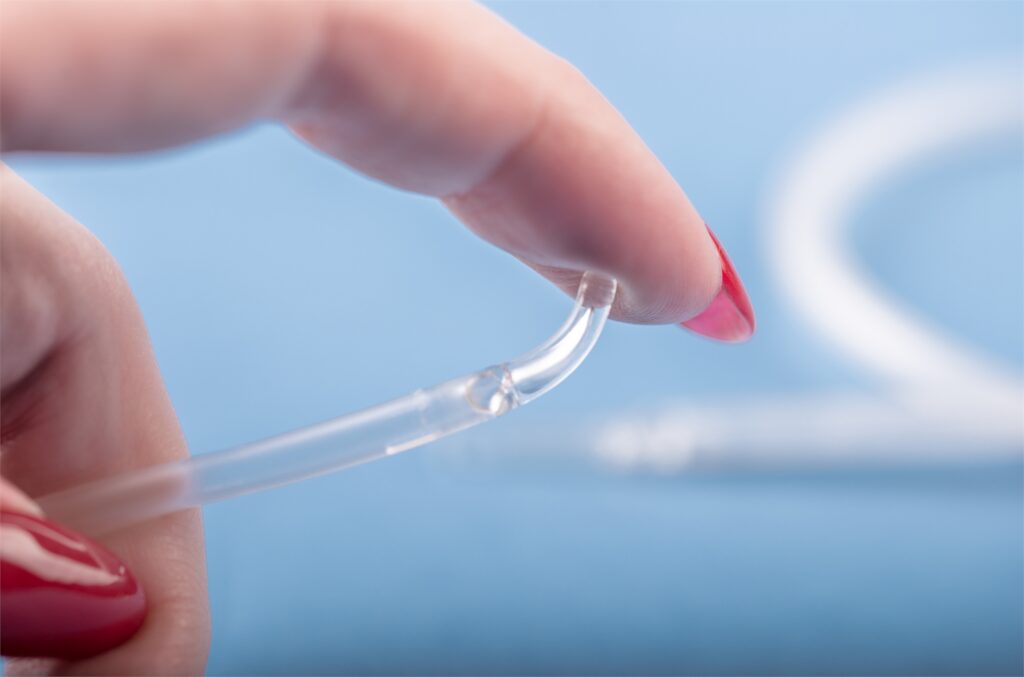 Couvelaire with water sachet
| size | diameter | length | reference number | connector colour |
| --- | --- | --- | --- | --- |
| CH6 | 2,0 mm | 400 mm | 930604010 | |
| CH8 | 2,8 mm | 400 mm | 930804010 | |
| CH10 | 3,3 mm | 400 mm | 931004010 | |
| CH12 | 4,0 mm | 400 mm | 931204010 | |
| CH14 | 4,7 mm | 400 mm | 931404010 | |
| CH16 | 5,3 mm | 400 mm | 931604010 | |
| CH18 | 6,0 mm | 400 mm | 931804010 | |